Neighbour Day is an annual event celebrated in Calgary on the third Saturday of June. This year, it's the 10th year!
The event encourages Calgarians to get to know their neighbours and build stronger, more connected communities.
It was first introduced in 2014 as a response to the devastating floods that hit the city the previous year, as a way of bringing people together to celebrate the community's resilience and strength.
Since then, Neighbour Day has become an important tradition in Calgary, with neighbourhoods hosting a wide range of activities and events, such as block parties, BBQs, community clean-ups, and more.
We flew all over town, eager to ask communities a critical question: 
What does neighbourliness mean to you?"
We can't wait to see all of you on June 15, 2024, for Neighbour Day 2024!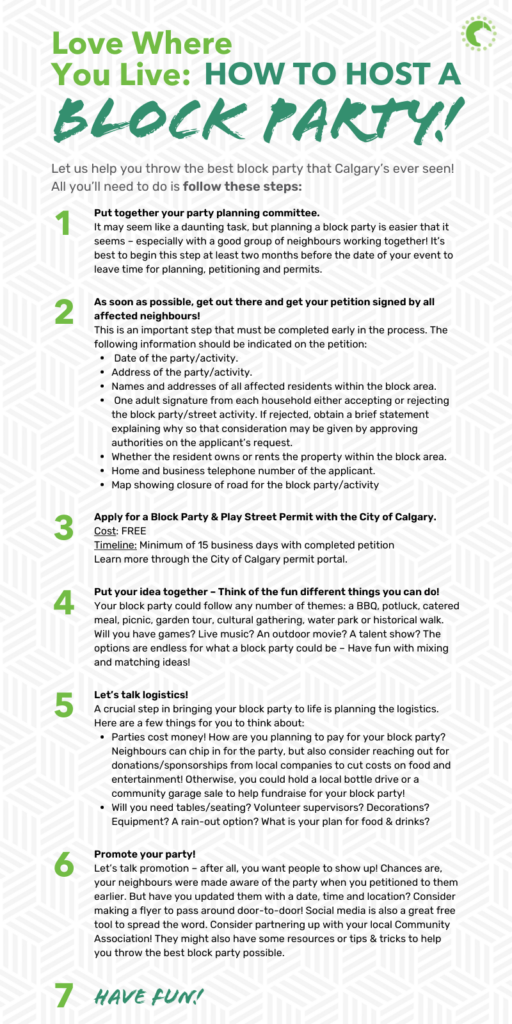 What better way to celebrate Neighbour Day's 10th anniversary than to host a block party?

Whether you want to get to know your neighbours, celebrate your community, discover something new about the area or just have a good time, look no further! Neighbourhood block parties can develop relationships among neighbours, which creates a strong sense of community and a safer place to live.
A block party isn't just about gathering people together on a street; it's about bringing a community together. Block parties offer the rare opportunity to bring a sense of small-town life into Calgary.
So, why not throw a block party to celebrate Neighbour Day and build community connections!
connect with your community association
Community associations are the heart of community. Typically made up of volunteers who are passionate about their neighbourhoods and want to make a positive impact, they play an important role in bringing residents together, fostering a sense of belonging and connectedness and creating a shared vision for the future of the community.
Here are a few reasons why community associations are so important:
Building social connections: Community associations provide a space for residents to connect with one another, whether it's through social events, volunteer activities or community projects.

Advocating for local needs: Community associations are often the first line of defense when it comes to advocating for the needs of the community, whether it's working to improve local infrastructure, fighting for better public transit, or pushing for more green spaces. 

Creating a sense of ownership: When residents get involved with their community association, they feel a sense of ownership over their neighbourhoods. They become invested in the success of their community and are more likely to take action to improve it.
Overall, community associations are an essential part of any healthy neighbourhood. They help to bring residents together, advocate for local needs and create a sense of belonging and community pride.
What's going on in your community this Neighbour Day?