Community Association Boundaries
North:
Bow Trail; 12 Avenue
East:
17 Street; 14 Avenue; 16 Street*
South:
17 Avenue
West:
Crowchild Trail
City Quadrant: SW

*Boundaries shown are proposed (18 Street; Sharon Avenue; 16 Street) and would eliminate current overlap with Sunalta as a result of 17 Street and 14 Avenue.
The land which now comprises the community of Scarboro was originally owned by the Canadian Pacific Railway. As was the case in the community of Mount Royal, the development of Scarboro adhered to the topography of the land and street names rather than numbers were used. The community was annexed to the city of Calgary in 1907 and subdivision plans were approved in 1910 and 1911. A restrictive covenant was placed on lots, still in effect today, which restricts uses that are in conflict with the residential nature of the subdivision.
Sunalta Elementary School – Public
Information available online at the City of Calgary community profiles site.
| | |
| --- | --- |
| Provincial Society Registered Name: | Scarboro Community Association |
| Provincial Society Registered Date: | March 19, 1934 |
| Federal Charity Status-Registered: | No |
| | |
| Facility Located at: | 1727 - 14 Avenue SW |
| Hall Rental Contact: | www.scarborocommunity.com |
| | |
| | |
| --- | --- |
| | |
Scarboro Hall Rentals Scarboro Community Hall 1727 – 14 Avenue SW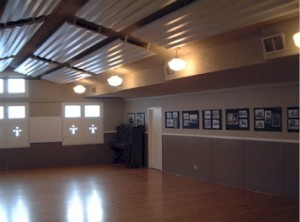 Main Hall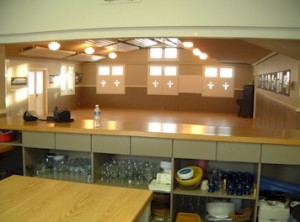 Main Hall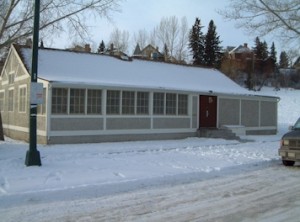 Scarboro Community Hall

Rates:
Friday/Saturday Evenings starting at 5:00pm – $300.00
Friday/Saturday Evenings starting at Noon – $400.00
Sunday-Thursday Evenings starting at 6:00pm – $30.00/hour (3 hour minimum)
Sunday-Saturday Daytime 8:00am-6:00pm – $30.00/hour (3 hour minimum
General Information:
Rental rates include access to tables, chairs, standard kitchen (dishwasher is commercial 2 minute cycle, all other appliances standard) as well as dishes, glassware and cutlery
Tables are rectangular 2.5' x 6'
Sprung hardwood floor
Tenants responsible for their own set-up and clean-up
Tenants free to use their own caterer and bartender
Tenants required to purchase liquor license (from liquor store) if serving alcohol
Main hall dimension is approximately 1200 sf
Free Parking at rear of building
Legal maximum capacity 170 persons
Sit-down dinner capacity approximately 125 persons
Contact Information:
Please check availability on our hall rental calendar at www.scarborocommunity.com. If your date is available, fill out the request form on our website. A community volunteer checks the inquiries twice per week. Your patience is appreciated!
| | | | | | | |
| --- | --- | --- | --- | --- | --- | --- |
| Main Hall Licensed Capacity: | | 170 | | Meeting Rooms: | | Yes |
| Wheelchair Access: | | Yes | | Stage: | | No |
| Gym: | | No | | Sound System: | | No |
| Kitchen: | | Yes – Standard | | Outdoor BBQ: | | No |
| Lounge: | | No | | Indoor Fireplace: | | No |
| Games Room: | | No | | | | |
Operated by the Community Association. For other recreation offered by the City of Calgary visit Calgary Parks & Recreation
| | | | | | | |
| --- | --- | --- | --- | --- | --- | --- |
| Tennis Courts: | | No | | Skating Rink: | | Yes – Outdoor |
| Swimming Pool: | | No | | Sports/Playfields: | | Yes |
| Hockey Rink: | | No | | Other: | | |
Offered by the Community Association
| | | | | | | |
| --- | --- | --- | --- | --- | --- | --- |
| Bingo: | | No | | Youth Justice: | | No |
| Sports: | | Yes | | Seniors Program: | | No |
| Fitness: | | No | | Child Care: | | No |
| Dance: | | No | | | | |