Community Association Boundaries
North:
Elbow River
East:
MacLeod Trail, S.
South:
25th Avenue, S.W.
West:
Elbow River
City Quadrant: SW
* Overlap with Erlton
"This trendy, upscale community defines downtown living."
The community of Lindsay Park is located in Calgary's SW, near the downtown core and is bordered by the Elbow River on the West and North. Primarily an adult community, Lindsay Park appeals to modern professionals. From quintessential brownstones to an eclectic mix of apartment condominiums, Lindsay Park clearly reflects inner city trendy and high end living.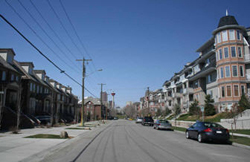 Lindsay Park
Shopping: Lindsay Park is within walking distance of the trendy 4th Street shopping / restaurant strip and the shops and boutiques of 17th Avenue, S.W. The downtown core's shopping centers and services are a mere 20 minutes' walk away.
Sports / Recreation: The Talisman Centre, located in Lindsay Park, offers a plethora of sports and recreation opportunities, from pools to drop-in classes, weight rooms, tracks and personal training as well as Cardiac Wellness services. Local pathways run along the Elbow River and connect with the Bow River Pathway System.
The Erlton/Stampede LRT Station lies on the East side of MacLeod Trail and links the community residents with LRT lines around the City.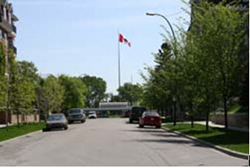 Looking East to LRT and Stampede
This community has a rich history in Calgary.
The community is named after Dr. Neville Lindsay who owned the ranchland which is currently known as Lindsay Park. Dr. Lindsay came to Calgary in 1883 on the first C.P.R. train carrying freight and construction materials. He was born in Westminster Township, Ontario in 1845 and died at Calgary in 1925. He married Florence May Hungerford in 1879 at Watford, Ontario where she was born in 1858. She died in Calgary in 1937. There were four children. Dr. Lindsay practiced Medicine in Watford for eight years before coming to Calgary where he continued his medical practice. Dr. Lindsay served as Alderman on the first Calgary town council in 1884. He was physician to the Blackfoot, Sarcee and Stony Indians as well as the R.C.M.P. and C.P.R. employees.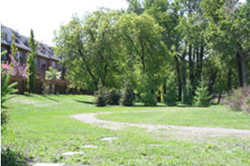 Park Between River Run II and River
None
Information available online at the City of Calgary community profiles site.
| | |
| --- | --- |
| Provincial Society Registered Name: | Lindsay Park Community Association |
| Provincial Society Registered Date: | January 14, 2008 |
| Federal Charity Status-Registered: | No |
| | |
| Facility Located at: | Do not have a facility |
| Community Association Email: | lpca.yyc@gmail.com |
| Community Association Website: | lindsaypark.ca |