-By Rizwana Shaikh, Federation of Calgary Communities
Five years after the devastating floods of 2013, Calgarians didn't let the rain stop them from celebrating Neighbour Day on Saturday, June 16, 2018. There were over 200 events taking place across the city, ranging from front yard barbecues and neighbourhood block parties to big community celebrations and events.
When the waters rose in June 2013, so did Calgarians. We came out in droves to provide supplies and help our neighbours in their homes, to help our communities clean up and offer support, and to help our city recover and rebuild. This strong neighbourly spirit inspired Mayor Nenshi to dedicate every third Saturday in June, closest to the anniversary of the flood, as Neighbour Day. We've been involved with Neighbour Day since it began, sitting on the organizing committee, and taking part in the day itself.
This year, we went to 20 community events in every quadrant of the city to capture the feeling of Neighbour Day approaching the fifth anniversary of the flood that started it all. These community association organized events gathered hundreds of residents and featured live music, bouncy castles, face painting, sports games, petting zoos, cookouts, block parties, and much more. We spent the day live tweeting all of the fun and sharing what people thought about their neighbours and communities in Crescent Heights, Elbow Park, Taradale, Marlborough, Arbour Lake, Inglewood, and Riverbend, to name a few.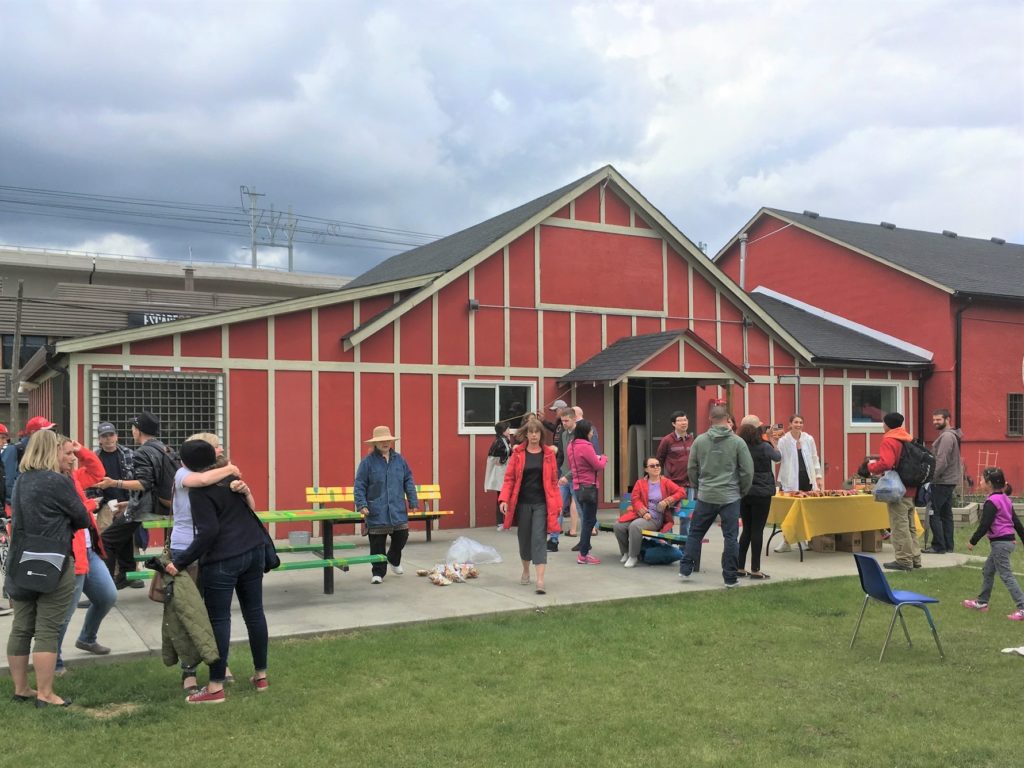 One of the events we attended in Sunalta and Scarboro, saw Rachel Notley, Premier of Alberta, stop by. She made comments to the crowd thanking the volunteers and wishing everyone a "happy Neighbour Day."
"You are the spirit of this city, you are the spirit of our province, and its things like this that make our province the wonderful place that it is for all of us," says Notley.
Sunalta was one of the few downtown communities not hit by the flood in 2013 and after thanking their lucky stars, they got to work collecting toiletry kits for 1,200 displaced and low-income seniors in East Village. This year they got together as a community along with their neighbours in Scarboro and many community partners for a tasty barbecue, celebratory cake, and a bunch of fun outdoor activities.
Jen Balderston, executive director with the Sunalta Community Association, says people coming together to celebrate makes Neighbour Day "special."
"Neighbour Day is all about celebrating our communities," says Balderston.
East Village was one of the hardest hit communities in 2013, where the water lingered longer than other places in the city. This past weekend, nearly five years later, residents got together for lunch, live music, and a walking tour to celebrate their strength.
The Beltline Neighbourhoods Association held a Beltline Urban Murals Project (BUMP) launch party for Neighbour Day this year. BUMP promotes public art by hiring local artists to paint murals throughout the Beltline community to fight against vandalism while celebrating local talent.
Omar Masood, community volunteer and one of our 2017 Faces of Community, was amazed to see a diverse group of individuals at Beltline's event, as everyone from children to seniors came together to celebrate.
"It's an awesome time to meet our neighbours, get to know each other, and make our communities feel more like neighbourhoods," says Masood.
Among the events we took part in was Strathcona Christie Aspen's LEGO building competition, which drew a diverse crowd. Marlborough brought together neighbours of all ages with a planting station to kick off spring. The Good Companions 50 Plus Club hosted local live musicians which had people up on the dance floor, Shaganappi set up a karaoke station for neighbours to serenade each other during their community potluck, and Hounsfield Heights-Briar Hill hosted a big block party which featured a dunk tank. The common thing among the events we attended were the big smiles and connections between neighbours.
Amanda, our new Communications Coordinator, experienced her first Neighbour Day this year, touring the city.
"I got to travel across the city, and it was amazing how welcomed I felt, even in communities I've never visited before. Neighbour Day is an awesome opportunity to get to know each other," she says.
This year Calgary resident Louise attended Neighbour Day celebrations in her community of Elboya, featuring a bike parade, costumes, and delicious barbeque. She says her reason for celebrating Neighbour Day is because it shows the "power of Calgary" and how "wonderful" the communities are. She is thankful for where she lives and the neighbours she has.
"When we moved into this neighbourhood what made it the best for us has always been our neighbours," Louise says.
Following the flood, Calgarians banded together to support and lift each other up, bringing communities back to life. It's these stories and events, but most importantly, the people, who are remembered and celebrated each Neighbour Day. We at the Federation of Calgary Communities are proud to be part of Neighbour Day, getting to celebrate, capture, and share the neighbourliness of Calgarians and the strong sense of belonging within our neighbourhoods.