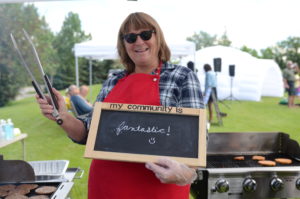 Saturday, June 16th is Neighbour Day!
How will you be a part of it?
See what your community has planned for 2018, or celebrate in your own way!
Here are some community associations offering to help you fund/promote your own event in that area: Tuscany, New Brighton, Kincora, Sandstone, Deer Ridge, Rocky Ridge. 
To support the hard work of our neighbourhood volunteers,
we visit as many Neighbour Day events as we can.
Don't see your community's event listed? Keep us up-to-date and send us a note.
Also be sure to share all your awesome #YYCNeighbourDay memories with us by tagging @fedyyc. 
Quadrant
Community Association
Time
Location
Details
Downtown
Beltline
3 p.m. to 11:30 p.m.
Memorial Park


1221 2nd Street SW

DJ Ryan Hemsworth, outdoor screening Fantastic
Mr. Fox, with games
Downtown
Sunalta & Scarboro
12 p.m. to 6 p.m.
16 St. & 10 Ave. SW
Games, sports, face painting, bouncy castle, booths,
food & more
Downtown
East Village Neighbourhood Association
11 a.m. to 2 p.m.
5th St. Square
corner of 5th Street SE and 7th Avenue SE
Lunch, live music, various activities & walking tour
SW
Marda Loop
12 to 2 p.m.
3130 16 St SW
BBQ & Bicycle Parade
SW
Strathcona Christie Aspen
9 to 11 a.m.
277 Strathcona Dr SW
Stampede Breakfast, LEGO Competition,
Open House, Battle Balls, face painting,
bouncy castle & balloon art
SW
Canyon Meadows
12 to 4 p.m.
844-848 Cantabrian Dr. S.W
Demos, games, food and fun
SW
Crestmont
1 to 3 p.m.
500 Cresthaven Place SW
Block Party
SW
Shaganappi
11:30 to 1:30
Corner of 14th Ave & 28th St.
Potluck lunch, bike parade, school of rock, & more
SW
Elboya Height Britannia
3 p.m. to 5 p.m.
Stanley Crescent & 4th St SW
Bike parade, costumes, BBQ & more
SW
Good Companions Club
10 a.m. to 2 p.m.
2609 19th Avenue SW
Games for kids, band, popcorn & family movie
SW
Kingsland
11 a.m. to 3 p.m.
505 78 Ave SW
Pancake breakfast, games, crafts, bouncy
castles, something for all ages
SW
North Glenmore Park
8:30 a.m. to 11 a.m.
2231 Longridge Drive SW
Pancake breakfast, petting zoo, pony rides, country
line dancing, face painting & more.
SW
Millrise
10 a.m. to 4 p.m.
Throughout the Millrise community
Parade of garage sales
SW
Elbow Park
3 p.m. to 10 p.m.
corner of 39th Ave & 4A St. SW
Dinnner, beer tent, bouncers, face painting, sports
SW
Somerset /Bridlewood
9 a.m. to 3 p.m.
Throughout the community
Community garage sale
SW
Cliff-Bungalow Mission
1 to 5 p.m.
2201 Cliff St. SW
A family friendly event celebrating community
resilience, food, live music, bouncy castle & more.
SE
Inglewood
11 a.m. to 2 p.m.
1740 24 Ave SE
Block Party, games, crafts, music and BBQ,
bike polo demo, face painting & more
SE
Dover
 10 a.m. to 4 p.m.
2951 – 26th Ave SE
Garden workshops, food, live music & more
SE
Mackenzie Towne
12 to 5 p.m.
15113 Prestwick Blvd SE
Day at the splash park, DJ & food
SE
Erin Woods
11 a.m. to 2 p.m.
83 Erin Park Drive SE
BBQ, games for the kids, & music
SE
New Brighton
11 a.m. to 2 p.m.
2 New Brighton Drive
Cultural celebration, with food, games & more
SE
Riverbend
10 a.m. to 10 p.m.
Riverstone Park
Food, giveaways, DJ & more
SE
Skyview Ranch
8 a.m. to 3 p.m.
67 Skyview Ranch St. NE
Community Yard Sale
SE
Ramsay
12 p.m. to 6 p.m.
1120 10 St. SE
Enjoy a great day to meet your neighbours
SE
Deer Run
9 a.m. to 12 p.m.
2223 146 Ave SE
Pancake breakfast, wagon rides, games & more
SE
Acadia
11:30 a.m. to 3:30 p.m.
McDougall United Church
Bouncy castle, snacks, music, vendors &
visits from first responders
SE
Parkland
TDB
Throughout the neighbourhood
Parade of garage sales
SE
Lake Bonavista
9 a.m. to 11 a.m.
Stampede breakfast, bouncy castle,
face painting & music
SE
Twin Views Community Garden
10 a.m. to 4 p.m.
2951 – 26th Ave SE
Food, guest speakers, workshops, live music,
door prizes, and more
NE
Taradale
9 a.m. to 2 p.m.
Taralake Way and 80th Ave. NE
Fit Park Grand Opening
Food, Fun, Prizes, Memberships, Special Guests
and a FREE fitness instructor lead work out.
NE
Livingston
12 to 3 p.m.
141 Livingston Ave NE,
BBQ, fun family activities &
Calgary Fire Department demo
NE
Albert Park
11 a.m to 5 p.m.
2636 12th Ave SE
Second location launch, live Music
food truck (Until 2pm), games, prizes & tour
NE
Marlborough
10 a.m. to 1 p.m.
636 Marlborough Way NE
Food, family game,
book exchange & planting station
NE
Falconridge/Castleridge
9 a.m. to 11 a.m.
Pre-stampede breakfast
NE
Thorncliffe
11 a.m. to 1 p.m.

Thorncliffe room

Neighbour Day cookout
NE
Winston Heights – Mountainview
11 a.m. to 2 p.m.

520 27 Ave NE

BBQ, Butterfield Acres Petting Zoo, face painting,
Live entertainment including Wandering Spirit's
Thundering Nations International.
NW & NE
Crescent Heights
1 to 3 p.m.

4 Street; Crescent Road

Paint the pavement event & BBQ
NW
Beddington Heights
12 to 2 p.m.

The green space on Berwick Dr. and Berwick Rd. NW

BBQ & community improvement idea sharing
NW
Banff Trail

4 to 7 p.m.

2115 20 Ave NW

BBQ, music, games, bouncy tent & more
NW
Ranchlands
2 to 5 p.m.

7713 Ranchview Drive NW

BBQ and family dance
NW
Hillhurst Sunny Side

8 a.m. to 7 p.m.

1320 5 Ave NW

Calgary Stampede Breakfast,
garage sale &Park Party
NW
Capitol Hill
11 a.m. to 4 p.m.

1531 – 21 Ave NW

Food, live music, business fair, bouncy castle
talent show & more
NW
Hounsfield Heights Briar Hill
5 p.m. to 10 p.m.
Between 12 th & 14th Ave
(1300 20A Street NW)
Block party, potluck, dunk tank, bouncy castle,
face painting, balloon artistry & more
NW
Arbour Lake
TDB

12 Arbour Lake Dr

Plog "jogging & collecting trash"
NW
Evanston
9 a.m. to 3 p.m.

40 Evanston Way NW

Spring jumble sale: handmade goods, knitting,
baked goods, garage sale items.
NW
Panorama Hills
11 a.m. to 2 p.m.

88 Panamount Hill NW

6 acre activity park, splash park, beach volleyball,
sandbox, playground, outdoor games, BBQ & more
NW
Parkdale
10 a.m. to 2 p.m.

3512 – 5 Avenue NW

Petting zoo, bouncy castle, soccer awards,
ice cream, BBQ, cotton candy, pets, sparkle artists,
free haircuts from Garrison Grooming & 50/50
NW
Highland Park
9 a.m. to 11 a.m.

3716  2 St NW

Pancake breakfast & music
NW
Montgomery
12:30 p.m. to 5 p.m.

Block of 20th Ave in between 47th & 48th St. NW

Block Party
NW
Scenic Acres
8 a.m. to 4 p.m.

Throughout the community

Parade of garage sales
Ward 10
Coral Springs, Monterey, Pineridge,
Rundle, Temple, Whitehorn
9 a.m. to 2 p.m.
City of Calgary Waste and Recycling Services and
other recycling services, will be on site at several
community locations within Ward 10 to collect
residential waste and recycling at no charge
Encourage family and friends
to take part  in Community Clean Up