By Jacey Conway, Federation of Calgary Communities.
The community of Marlborough encouraged safety, creativity, and an active lifestyle through the revamp of several catwalks in the neighbourhood this summer.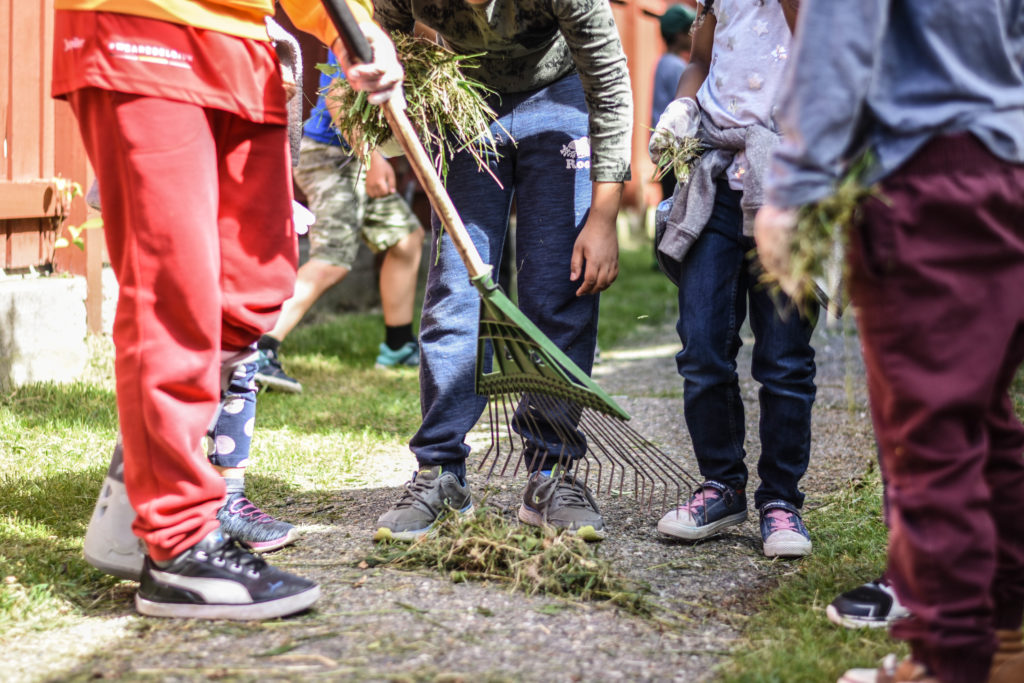 This project came about after members of the Calgary Marlborough Community Association (CMCA) partnered with Sustainable Calgary to revamp the engineered walkways in the community.
They posed the question, "what does it take to make catwalks more inclusive, safe, and accessible?" to Marlborough residents and began gathering feedback.
"The ultimate goal is to get the whole neighbourhood involved with catwalk care," says Donna O'Conner, vice president of the CMCA.
The community was more than happy to hear the news that these walkways would be targeted for renovation so they could become more "active, connective and productive places."
The group of planners and initiators included several members of the CMCA, Srimal Ranasinghe of Sustainable Calgary, and other partners such as Marlborough Elementary School, Bob Edwards Secondary School, and YMCA's Kids in Motion Program.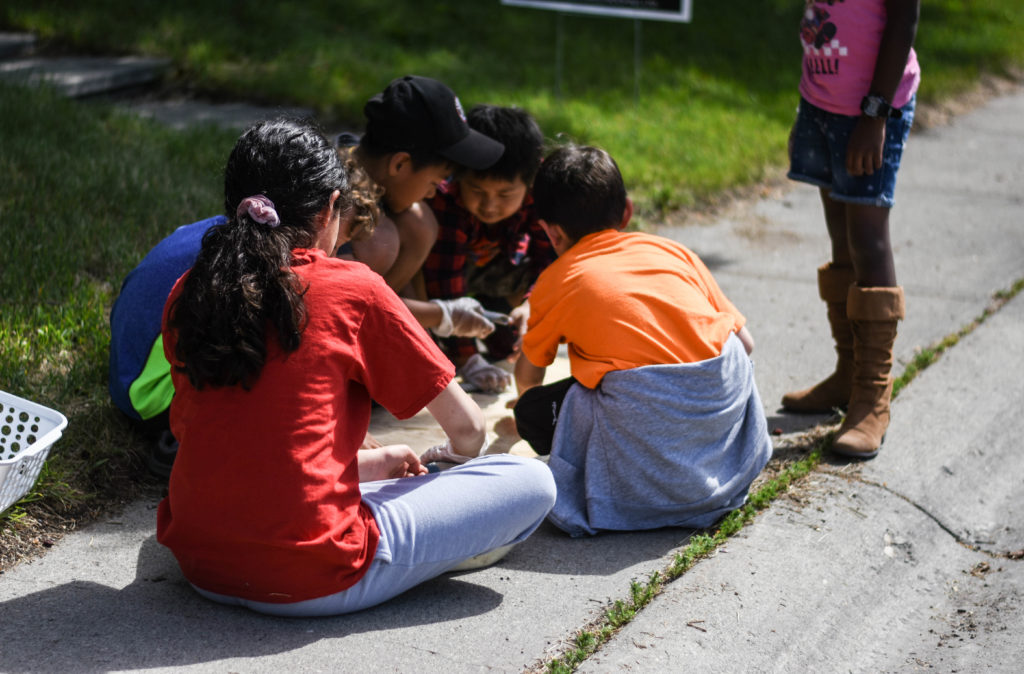 The team decided to get the younger generation involved with the planning and implementation of the project as children were the primary users of the catwalks in the community.
Many of the children using the catwalks felt scared and intimidated in the original spaces as they were dark, unwelcoming, and often dumping grounds for garbage.
"Getting the kids involved allowed them to take ownership of the project," explains O'Conner.
The Marlborough Elementary School adopted two catwalks to renovate. They spent eight months working through a dream and scheme process in which the kids presented their ideas and wishes for the new space. The project finished with an activation day where students cleaned, painted and added solar lights to the walkway. After the activation, the two catwalks now have lighting, garbage cans, and sidewalk games such as hopscotch.
"The kids are proud of what they accomplished and get to see that impact as they access the catwalks each day going to and from school," says Aubrey Fletcher, principal of Marlborough Elementary.
The CMCA put on a neighbourhood scavenger hunt event to bring awareness to the remaining catwalks in the area.
On June 22, members of the community gathered at Maryvale Park to pick up their maps which led them to 12 different cat themed catwalks in the neighbourhood.
Each catwalk was carefully decorated by volunteers from the CMCA and each had a unique cat focus.
Some of the catwalks included: Cat in The Hat, featuring a little library; Catnip, featuring edible plants; Pi-Cat-So, featuring artwork hung on the fence; Hiss-tory, featuring
old photos of Marlborough; Cool cats, featuring popsicles, and several more.
Each space was carefully thought out and intentionally decorated. The event provided an opportunity for the community of Marlborough to discover community spaces and meet their neighbours.
"We are bringing life to the community!" says O'Conner.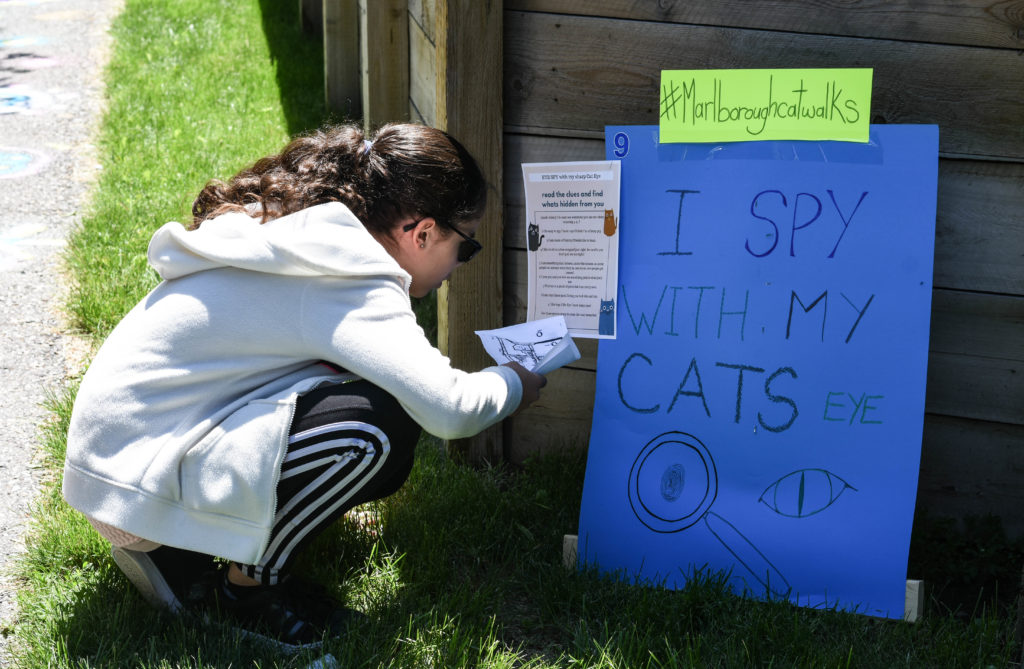 Since the activation of the catwalk spaces, the CMCA and Sustainable Calgary have been overwhelmed with positive feedback.
___
"I purposely take a longer route home, just to walk through this amazing catwalk!" Michelle
"So awesome to see something like this! What could have been a messy alleyway is now the neighborhood kids' pride and joy and cool hangout place!" Nick & Charlie
"Community members love it! They shared the project on social media, at meetings, and even at the school level. We have hosted many visitors over the last weeks of school, people interested in seeing what kids can do when they have an idea, a plan and some adult support, and a small budget!  Aubrey Fletcher
"We've seen more people walking through the space. The other night one of the neighbours came over with his wife and picked enough kale, tomatoes, and onions for their salad, and brought a watering can in hand!" Danielle & Americo
"More people are coming to this catwalk as a destination now! I've seen bikers actually turn around and bike through to see what's happening. A lot of positive attention for once" Gloria
"We're out in the yard last night and see the children with their families cycling through the space, stopping to admire all of the art on display. I actually overheard one of the boys asking his father about the different birds eating out of the feeders you made. I'm really proud to see work like this being done in my community" Joan & Wesley