NEW Learning Opportunities with The Federation!
Are you ready for new learning opportunities in 2022? Check our NEW January to June Workshop Guide! We're excited to offer our members NEW core workshops, Table Talks, Lunch n' Learns, and Community Learning Workshops. Start 2022 off with a Federation workshop. Check out all our new learning opportunities today. Be Part of It!
Energizing Spaces powered by ENMAX Recipients Announced!
We're super excited to announce the Fall recipients of Energizing Spaces powered by ENMAX! Congratulations to Community Kitchens Program of Calgary, Crossroads Community Association, Greater Forest Lawn 55+ Society, North Haven Community Association, Elbow Park Residents Association, Killarney-Glengarry Community Association, and Ranchlands Community Association! We are excited to see how you'll be re-energizing your spaces. This round we gave $42,781! Check back in the new year to see when the next round starts!  #Enmax

Get Funded with the Restriction Exemption Program Implementation Grant!
Did you know your organization can get funds to help you implement the Restriction Exemption Program (REP)? Applications are now open for the Restriction Exemption Program Implementation Grant. Eligible organizations who choose to implement the REP can receive $2,000. Learn more about the Restriction Exemption Program Implementation Grant and apply today!
Have you heard? Our Office is Closed Over the Holidays
The holidays are here, which means our office will be closed from December 17, 2021, at noon, to January 4, 2022. Thank you all so much for another year of support. Happy Holidays from our Federation family to yours; we can't wait for another year of serving our members!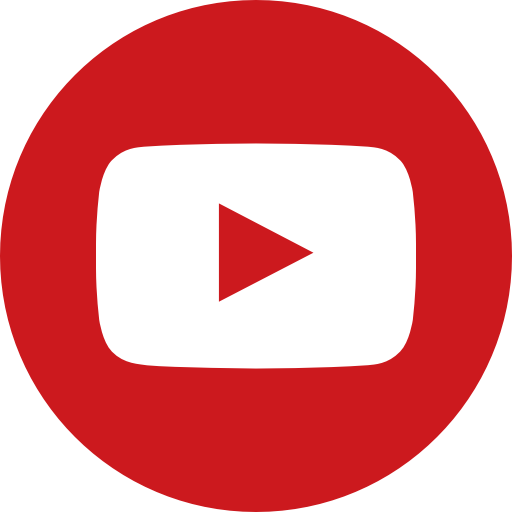 Never Miss a Workshop Again with Our YouTube Channel
Did you know we have a YouTube channel? We post some of our recorded workshops and other content we think our network will find interesting. Subscribe today to stay updated on exciting video content produced by The Federation.
Lease 1 Financial
Looking to add or replace equipment for your business? We'd like to assist you in getting what you need with Lease to Own Financing.
Contact us to find out how we can help your community or business.
Find out More at: www.lease1financial.ca
Email: Lisa@lease1.ca

We Can Make an Impact this Christmas
The Mayor's Annual Food Drive is back, and we need YOUR help supporting this fantastic organization. Here are some ways YOU can help: donating to the food bank if you can; for every $1 donated, the Calgary Food Bank can distribute $5 worth of FOOD. You can also host a virtual food drive.
Every day, the Calgary Food Bank supports our friends, neighbours, and, most importantly, communities by making a positive difference in the lives of Calgarians. Join us this holiday season in supporting this incredible organization. Be Part of It!

New Alberta Crowdfunding for Non-Profits 
On November 8, 2021, the Government of Alberta launched Creative Partnerships Alberta, a bold and innovative initiative to spark private investment in the non-profit sector through partnerships between the government, philanthropists, and the business sector.
This week, they launched the Crowdfunding Alberta Program. This platform connects donors and non-profits online to generate fast and flexible funding to support programs, services, and causes contributing to Albertans' quality of life. This made-for-Alberta crowdfunding platform makes it easier for donors to find non-profits and initiatives to support and connect non-profits with a wider network of supporters, while incentivizing donors through government matching. They are providing $1 million in top-up funding to kick start the program. Campaigns can receive up to a maximum of $2,500 in top-up funding. For more information and to launch your campaign, visit www.crowdfunding.alberta.ca.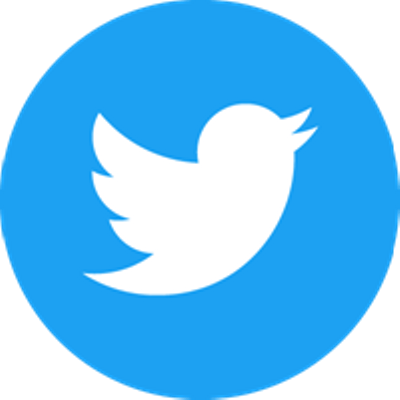 Get Planning Updates on Twitter
Did you know the City of Calgary Planning and Development Services department has its own Twitter page? This is a great way to stay up to date with new and exciting opportunities in Calgary, have your say on community developments, and engage with the city-building conversation.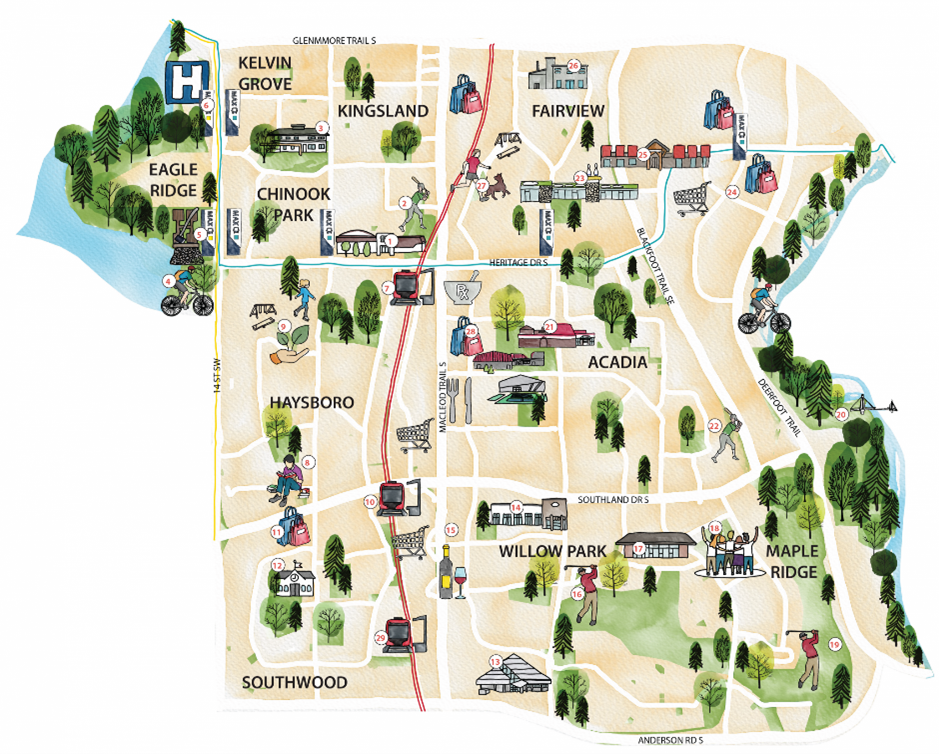 Heritage Communities Local Area Planning: Phase 1
The Heritage Communities Local Area Planning project (includes the residential communities of Eagle Ridge, Kelvin Grove, Kingsland, Fairview, Haysboro, Acadia, Southwood, Willow Park, Maple Ridge and Chinook Park as well as the industrial communities of Fairview Industrial, East Fairview Industrial, and Glendeer Business Park), is looking to hear YOUR voice in the initial stages of the Local Area Plan (LAP) process! This is YOUR chance to work with The City to create a future vision for how land could be used and redeveloped in the area.
From November 22, 2021, to January 4, 2022, the public will have the opportunity to share their thoughts. Additionally, FIVE different virtual sessions will be held where city planners can answer your questions. Register today to have your say!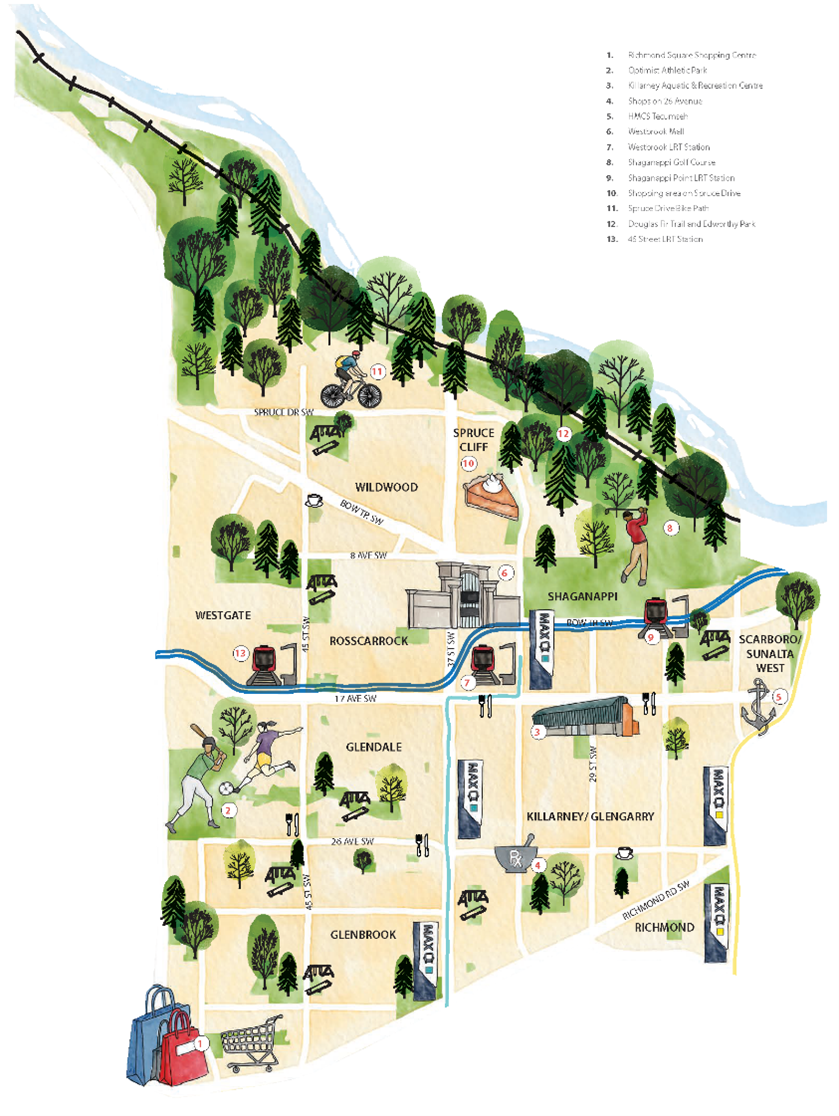 Westbrook Communities Local Area Planning: Phase 1
The Westbrook Communities Local Area Planning project (includes the communities of Wildwood, Spruce Cliff, Westgate, Rosscarrock, Shaganappi, Glendale, Killarney/ Glengarry, Glenbrook, and the portions of Upper Scarboro/Sunalta West and Richmond that are west of Crowchild Trail), is in its first phase for public engagement! The City wants to hear from YOU on the draft content for the first chapter of the plan, which includes the area's history, the current area as it exists today, and the vision for the area and core values that support this vision. Share what you love about the community and your vision for the future!
You can share your thoughts from November 22, 2021, to January 4, 2022; plus, there are FIVE different virtual information sessions where city planners can answer your questions. Register today to have your say!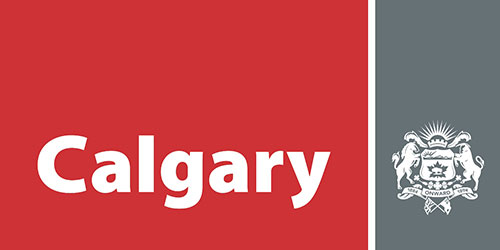 Neighbourhood Streets – Silver Springs
The City of Calgary wants YOUR insight into creating streets where neighbours can connect and access travel options for all ages and abilities in Silver Springs! Three phases of public engagement have been provided to identify, prioritize, and evaluate areas where changes can be made to the streets in Silver Springs, along with the temporary installation of wheeling facilities, traffic calming, and pedestrian improvements throughout the community. Calgarians are invited to provide feedback on the policy and learn about new updates! Share your thoughts online before the December 17 deadline!